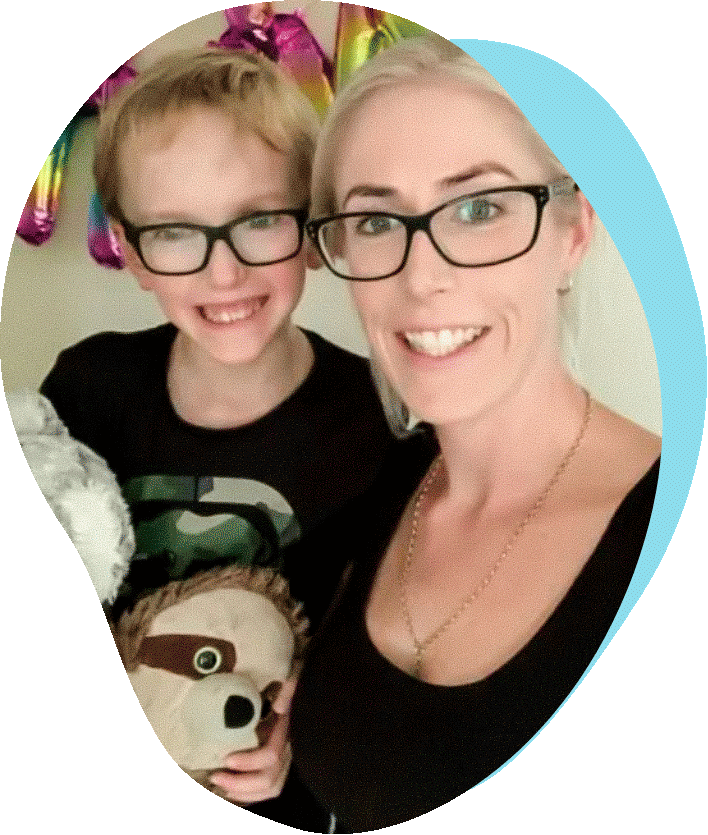 Meet Kaleb
Sotos Syndrome, ADHD & Anxiety
How medicinal cannabis has allowed 5 year old Kaleb to live a normal life.
"Kaleb couldn't manage going to school. As soon as there was noise and sensory overload, he would end up hitting other children. I couldn't even take him out to shopping malls or crowded places as he would panic and scream".
Tired of pharmaceutical drugs that didn't work and worried about what effect these drugs were having on his little body, Kaleb's mother did what most would not consider.
She gave him cannabis. Learn more about Kaleb's story below.
Dealing with Sotos Syndrome, ADHD & Anxiety.
"He was able to hold a pen and write for the first time in his life."
How medicinal cannabis has allowed Dani to be a mother again
Born in the Bay of Plenty, Kaleb has had a challenging start to life. He suffers from Sotos syndrome, a rare genetic disorder which combines several developmental issues. Apart from a distinctive facial appearance, Sotos syndrome is often associated with intellectual disability and various behavioural problems, such asattention-deficit/hyperactivity disorder (ADHD), compulsive behaviours and tantrums.
While initially undiagnosed, Kirsten was well aware that her boy was having difficulty. "Kaleb has several challenges. The main concerning issue was that he was not tolerating going to school. He would spend an hour in the classroom before getting frustrated or overwhelmed with other children resulting in him lashing out and hitting them" says Kirsten. There were also issues around anxiety where Kaleb would not tolerate being outside of home, especially in crowded areas such as malls. "Home was his only safe zone and this limited Kaleb from doing much" says Kirsten.
With CBD oil, Kaleb (5 years old) is managing to attend half days at school and not hit other children, something that Kirsten never imagined would happen.
In December 2019, Kaleb underwent genetic testing due to these concerns. These confirmed the diagnosis of Sotos Syndrome and gave Kirsten an answer as to why her boy was facing challenges. "Sotos syndrome is rare in New Zealand with only a few cases so it was all new to me" says Kirsten.Having a diagnosis didn't change reality however. Although Kirsten had her mother's support, she was barely managing. "Kaleb would need to return home from school at lunch time everyday and it was getting too much for everyone". It was at this point that Kirsten decided to resign from her administrative assistant job to be able to look after Kaleb and pick him up when needed.With a diagnosis on hand, Kirsten did what her motherly instincts told her and that was to try and help Kaleb as much as possible. "I started researching online about what other Sotos parents overseas did and I came across CBD oil and heard positive stories. I decided that surely this natural plant would be better for his little body than pharmaceuticals".
"I approached our GP who outright declined prescribing any CBD oil which was really disappointing. I transferred to a new GP who again declined because he was scared something would go wrong and he would be blamed for it. I was told to try the blackmarket so that if it goes wrong, no doctor would be to blame." – Kirsten
Unsure what to do, she took her doctor's advice and contacted a green fairy. A few emails and a $15 payment later, she received an unlabelled small bottle in the mail. "It seemed really odd and unreliable. I opened the bottle and it smelled awful. Desperate, I tried tasting it but spat it out straight away. I then immediately threw it away as I was not going to put that into his body" says Kirsten.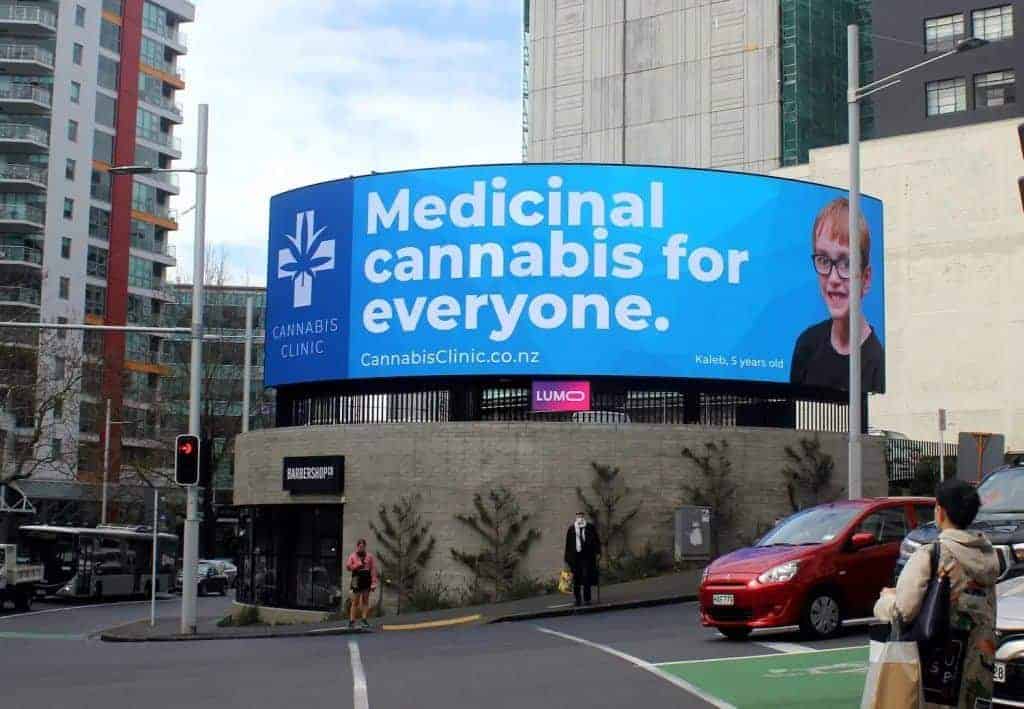 Kaleb happy to share his story with a banner on Anzac Ave, Auckland, August 2020
In March 2020, after consultation with a doctor, Kaleb commenced a treatment plan with CBD oil.
"The results were immediate. Kaleb's anxiety started to settle, he was calmer. He was finally able to hold a pen and put it to paper. He stopped hitting other children at school. He could finally manage the classroom without having to take hourly breaks. It was amazing" – Kirsten
For Kirsten and Kaleb, there was no looking back. "I will absolutely continue using CBD oil and I have told everyone about it. His teachers, friends and family. Everyone has been very supportive".
"The main issue we face is the cost of the treatment plan, especially since I am not working at the moment. I save aside $10 to $20 per week for it and mum helps with the rest".
"I am hoping that in the future Kaleb will have access to more affordable CBD oil so that he can continue to benefit from it in the years to come".
While reflecting on her experience and story, Kirsten was firm when asked what she would advise other parents: "Just don't be scared to try it, give it a go, there is no harm".
If you have a child who you think would benefit from CBD oil, talk to one of our doctors today.
Disclaimer: The story above is for educational purposes only, and is not an inducement to use medicinal cannabis, nor promote the Cannabis Clinic. Medicinal cannabis does not work for everyone, and it may not work for you.