Meet Pat
Medicinal Cannabis & Chronic Pain
It all started in 2003 when Pat discovered she had a non cancerous tumour in her bowel removed. During the process, and without her knowledge or consent, surgical mesh was placed inside. While the surgery was a success in removing the tumour, it started her on a long road of chronic pain.
After seeing her doctor and specialists multiple times, along with multiple tests and investigations, nothing wrong could be found. The pain continued to the point of intolerance. "It was at this point that I did my own research and found that there were many others like me out there who had this mesh inserted and suffered long term pain as a result" says Pat. Since that time, the mesh has been removed from the market. Pat returned to her specialists and requested for it's removal, but her concerns were met with doubts. "It was a really tricky situation because the specialists were not sure if it was the mesh that was causing it or not, but I am convinced". Following the recall of the mesh from the market, it was further apparent that it was causing her pain.
Overcoming Chronic Pain
Pat has lived with chronic pain for 17 years and has found relief with medicinal cannabis, allowing her to continue teaching and living a better life.
Pat has been a teacher all her life and loves her job, but by 2019 the pain had taken it's toll and she was ready to quit." It was then that I thought of various ways I can help myself live a better life and I considered medicinal cannabis".
In 2019, Pat commenced her treatment…
"Well, it has been amazing! At first I felt myself relax. I had obviously been tensing up to control the pain. Now I find I can do a whole lot more during the day and not pay the price the following day! I still get tired but never feel the need for extra pain relief. I was going to retire from teaching but have decided I can continue part time this year" – Pat
Pat continues to use medicinal cannabis to help her pain but recently has been able to lodge a claim with ACC for this to be approved as a treatment injury. This has yet to be approved. While not teaching, Pat lives on her farm with alpacas with her family.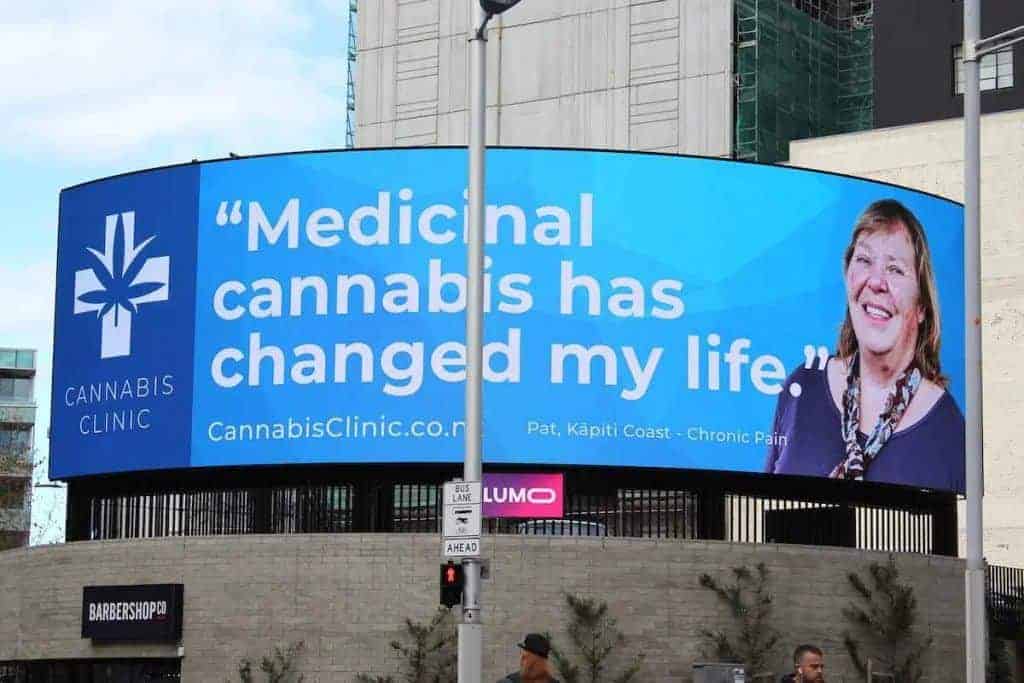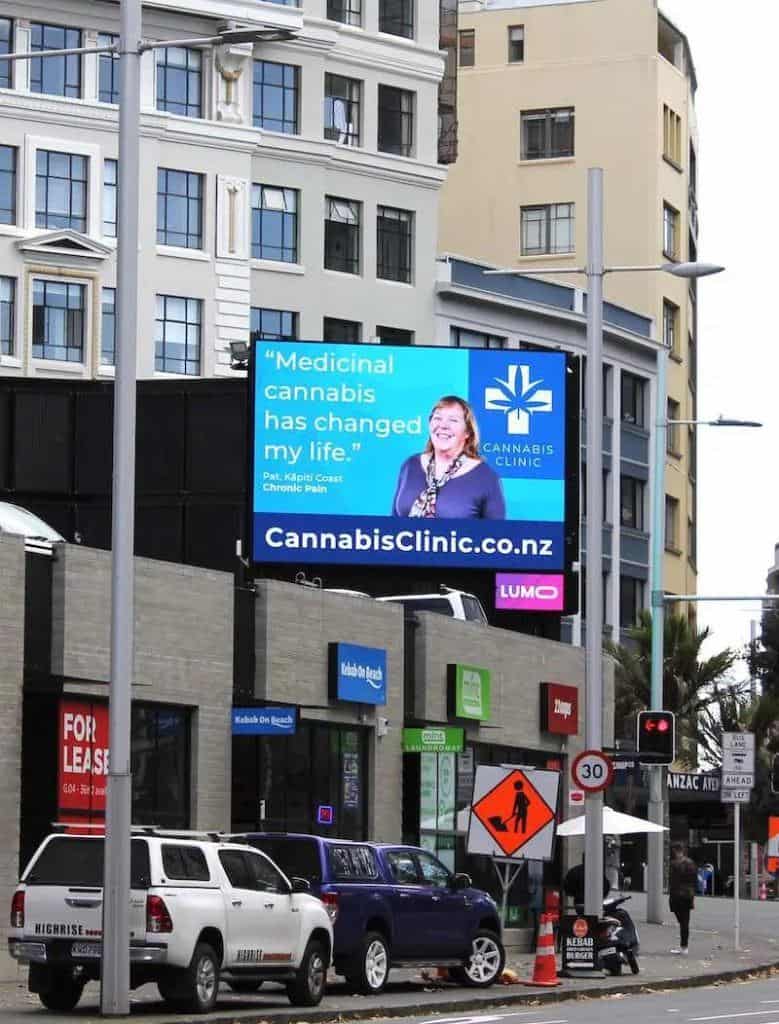 Billboard on Anzac Avenue and Beach Road, Auckland with Pat's story (July 2020)
"It has made a big improvement to my quality of life" says Pat
Disclaimer: The video and story above are for educational purposes only, and are not an inducement to use medicinal cannabis, nor promote the Cannabis Clinic. Medicinal cannabis does not work for everyone, and it may not work for you.