Meet Rachel
Panic Attacks, Anxiety & Insomnia
Anxiety has been with Rachel for more than 20 years since she was a teenager. She has tried multiple medications over the years alongside counselling, cognitive behavioural therapy (CBT), and practising mindfulness. These treatments would help, but would not be sufficient for her to live her life to the fullest.
"It would be up and down, I would get periods of extreme anxiety then it would settle then it would come back, with episodes of panic attacks" says Rachel.
A lot of Rachel's anxiety was from panic attacks. "They would come from multiple sources, like being in social situations or at heights".
Dealing with Anxiety and Insomnia
Rachel has lived with anxiety since she was a teenager and has always had trouble sleeping. Rachel's medicinal cannabis journey has enabled her to live a better life.
While multitasking as a busy mum, selling her home, and studying early childhood education, she found it increasingly difficult to manage. It was at this point that Rachel started on her journey with medicinal cannabis. "I was skeptical at first but my husband encouraged me and he has been a big supporter of medicinal cannabis".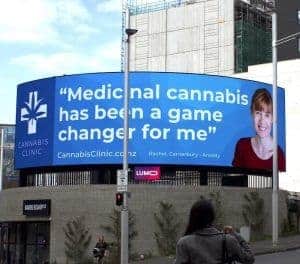 Billboard on Anzac Avenue, Auckland with Rachel's story – July 2020.
"It was amazing, it seemed to take the edge off and I felt so much better. It is hard to explain how that feels. It feels like I am able to live life!" – Rachel
"It has helped me in so many ways, where do I start, from my relationship to my husband through to my social interaction and studies, it has been so helpful". Rachel is also using a spray at night time to help with sleep "which has been really good to help me fall asleep". Thanks for sharing your story, Rachel.
Disclaimer: The story above is for educational purposes only, and is not an inducement to use medicinal cannabis, nor promote the Cannabis Clinic. Medicinal cannabis does not work for everyone, and it may not work for you.