Delivery, Pickup & Returns
Our Dispensary ships to New Zealand nationwide. All shipments require a signature for delivery unless you have given permission or instruction to NZ Post to leave the package without a signature. Please see our Authority To Leave Policy below.
Expected Delivery Times
Your medication will be sent to our dispensary for dispatch within 48-72 hours when your order has been approved by our clinical team. 
In-stock Items
Please allow 2-4 business days to receive your order. For rural deliveries, please add an additional 1-3 business days.
Pre-ordered items
If the product you have selected is on pre-order, please allow 5-6 weeks for delivery. All pre-ordered products are imported on your behalf and must clear NZ Customs and Medsafe, hence the longer wait-time.
Multiple Shipments
In order for our patients to get their medicine at the earliest time possible, we may ship items separately. You will not incur additional shipping charges. Your original shipping charge will simply be split across multiple shipments when your order is charged.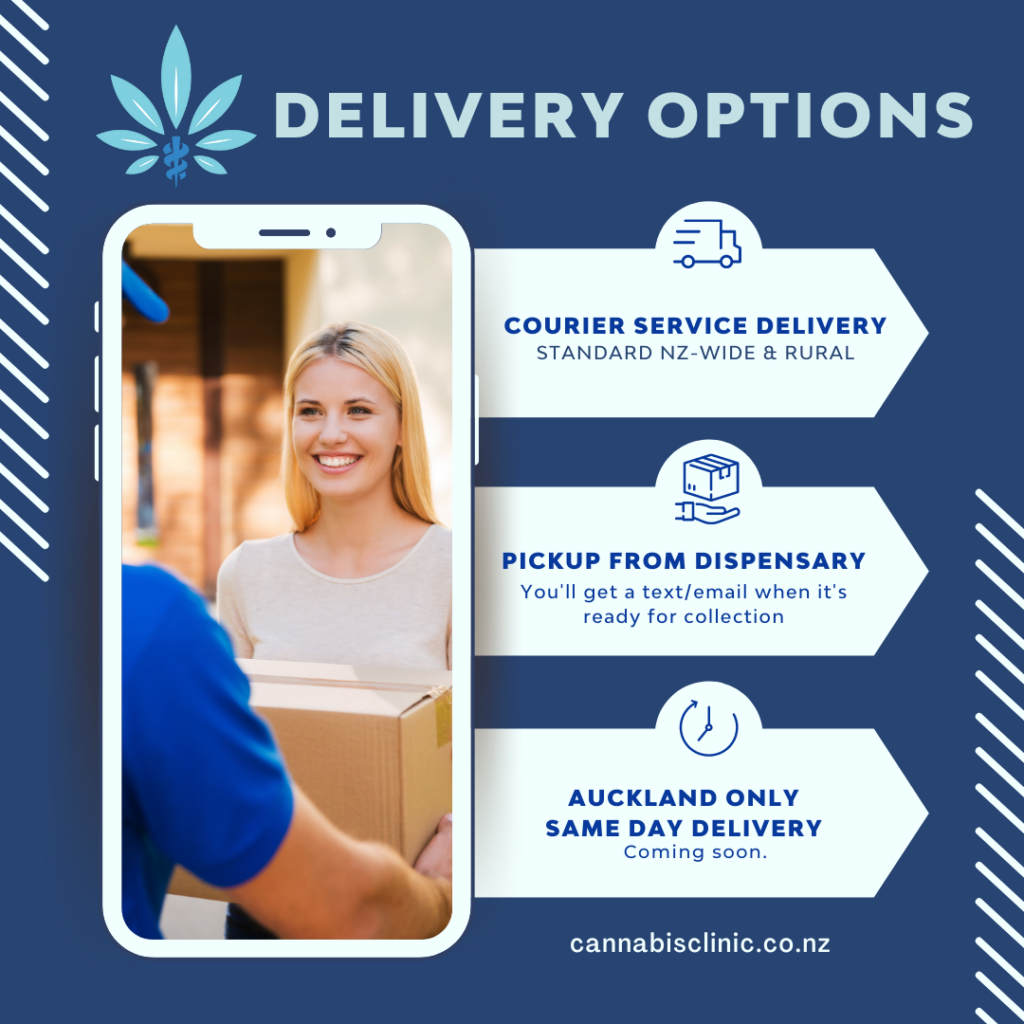 Tracking your order?
We will send you tracking details via email. Please check your spam/junk folder as sometimes our emails are classified as junk.
Click & Collect
If you have chosen Click & Collect as your delivery method, we will text/email you as soon as your medication is ready for pick-up. To avoid disappointment, please do not come to collect your medication until we have notified you.
Pre-Orders
If your order includes a pre-order product, this may be sent separately as soon as it arrives with us.
Want to redirect/change your delivery address?
We are able to change your delivery address if the order has not been dispatched. Once your order has been dispatched, we are unable to redirect a package to a different address and it is your responsibility to co-ordinate with NZ Post directly on 0800 268 743 or you can request for re-direction via their website. Please make sure you have your tracking number.
Authority to Leave (ATL)/ Non-Signature Delivery
To ensure the security of your order a driver will always attempt to gain a signature when a delivery is made unless an 'authority to leave' is active at your chosen delivery address or a 'one-time use authority to leave' is selected directly via NZ Post.
If you have a permanent 'authority to leave' or agree to a 'one-time use authority to leave', you understand and agree that this gives our couriers permission to leave your order in question unattended in a safe place at the delivery address without obtaining a signature confirming delivery at the delivery location.
In these circumstances, you understand and agree that by having an authority to leave or a one-time use authority to leave, we and our couriers are released of all responsibility and liability for the orders delivered and left unattended, and that this responsibility and liability transfers to you on delivery. Therefore, we do not replace or refund products that are scanned as 'delivered' by NZ Post.
Shipping to P.O Boxes
Yes absolutely! We are able to ship to PO boxes and Private Bags. Please note, should your order be oversized a Collection Card will be left inside your PO Box or Private Bag for you to be able to collect your order from your PO Box or Private Bag provider directly. Please ensure when collecting your parcel you bring your Collection Card or Consignment number as well as your photo ID.
Damaged Goods
If your order is damaged in transit, please submit our Damage Form here in the first instance or contact us on 0800 223 645 Monday to Friday 9am – 3pm NZST. If you have not received your order within 4 working days, please contact us so that we can assist you.
Returns Policy
We hope that you will be delighted with your medicinal cannabis product. Because all products are medicines or controlled drugs, we are unable to accept returns or refunds if you change your mind about your purchase.