Medicinal Cannabis and Sleep.
Sleep issues are affecting more people than ever in recent years. In fact, since the beginning of the covid-19 pandemic, researchers worldwide have documented a surge in sleeping disorders. Whether you suffer from interrupted sleep, getting too little, or you're getting too much, medicinal cannabis and CBD oil may be the natural plant-based treatment you deserve.
Medicinal cannabis has been legal now in New Zealand for several years, and the team at Cannabis Clinic have helped thousands of Kiwis achieve better sleep. In fact, trouble sleeping is one of the top three reasons our patients come to us for advice.
Sleep is essential for our mental and physical health, allowing us to 'recharge' at the end of the day. For those suffering from sleeping disorders, CBD oil and medicinal cannabis treatments may improve anxiety symptoms, promote relaxation and improve sleep quality, without the drowsiness associated with pharmaceutical sleeping aids. Keep reading to find out how cannabis may help improve your sleep.
Contact us
What's Causing Your Sleep Issues?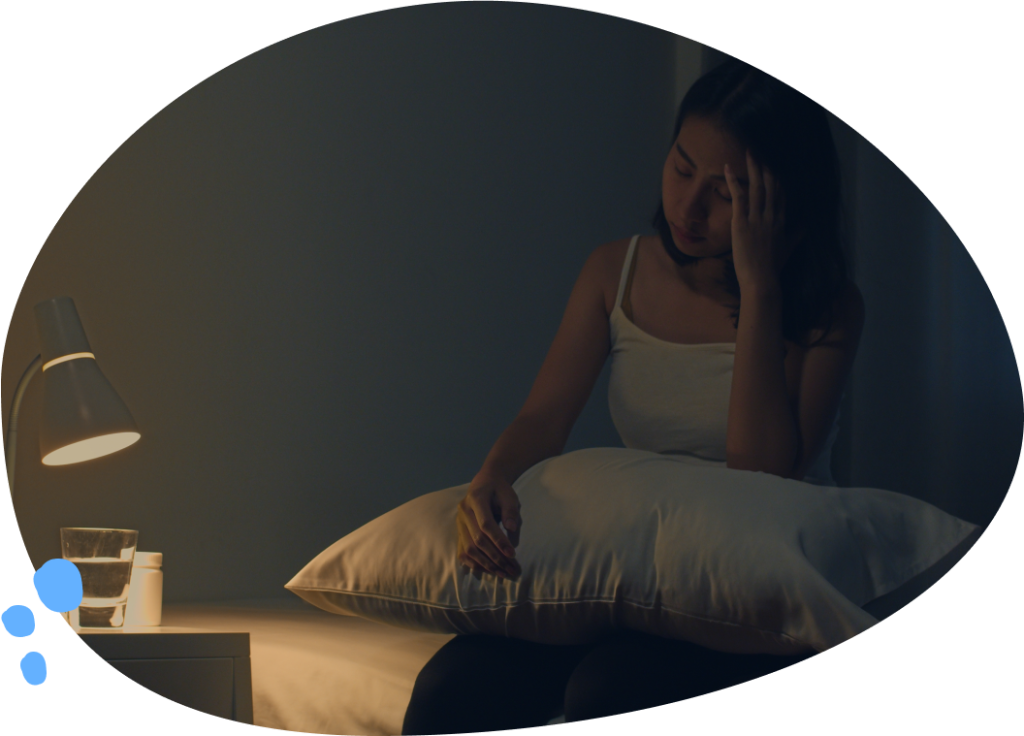 Troubles with sleep can stem from many different physical, neurological and environmental causes, and even aging. But the importance of sleep cannot be understated as it functions as a way for us to heal, process information and it also helps keep our immune system strong. CBD oil may help ensure the body passes through the regular stages of sleep and REM sleep without undue disruption. In our clinical experience, CBD and THC may enhance both the quality and amount of sleep.
Which Medicinal Cannabis Product Can Help Me?
We all have different constitutions and health circumstances, so there isn't one prescribed medicinal cannabis product and/or dose that is effective for everybody. It is important to seek advice from an experienced doctor to determine the most effective treatment plan for your circumstances.
CBD oil is a great CBD product option due to its portable nature and fast-acting effects. If you are wondering whether CBD oil would help you sleep make sure you talk to your GP or one of our experienced doctors. For many of our patients, we find that adding in some THC to their night-time routine can also work very well. When THC is taken orally, it does not cause a high and is very helpful in helping people feel relaxed and sleep. Generally speaking, taking CBD oil or THC an hour before bedtime allows sufficient time to start working so that you fall asleep easily once it's absorbed effectively.
Contact us
How Does Cannabis Improve Sleep?
Medicinal cannabis may help with sleep disorders and other conditions by interacting with the body's own endocannabinoid system. This system comprises a complex group of endocannabinoids, enzymes and receptors that affect mood, concentration, hunger, stress and pain.
The research on cannabis and sleep (insomnia) is still relatively new, and most researchers agree that more research on medical cannabis for sleep is needed before we can fully understand its impacts.
However, we do know that the two primary cannabinoids that may help are THC (Tetrahydrocannabinol), and CBD (Cannabidiol). Learn more below.
A cannabinoid present in cannabis that encourages relaxation is CBD (cannabidiol). There is some research supporting several of CBD's health benefits, including its ability to improve sleep symptoms. There is no "high" connected to CBD. Instead, CBD functions to counterbalance or balance the high caused by another cannabinoid, THC. CBD can interact with endocannabinoid system receptors to reduce feelings of anxiety, stress, or pain.
CBD has attracted much interest for its capacity to potentially lessen anxiety, ease pain, and foster clarity and focus. Additionally, CBD may increase alertness and lessen daytime sleepiness. According to studies, CBD may lessen anxiety without interfering with sleep-wake cycles.
THC seems to be the cannabinoid that actively affects sleep architecture and the amount of time spent in various stages of sleep. THC and THC-rich strains of cannabis have been the subject of several studies over the years. This cannabinoid is most closely associated with increases in deep, slow-wave sleep, lighter stages of non-REM sleep and decreases in REM sleep.
THC has sedative properties, and higher THC cannabis strains typically have a greater sedative effect. But be aware that THC containing medication can cause impairment – always leave an 8 hour window before driving or operating heavy machinery.
Contact us to find out more
Conclusion
We have seen thousands of our patients having good results with medicinal cannabis and CBD oil to manage insomnia symptoms. We look forward to continuing the advancement of this natural plant-based treatment for all New Zealanders. For those who feel that medicinal cannabis may be the right choice for you, please contact us today for more information.
Questions about Medical Cannabis?
Look here.
Book an appointment with us!
Click below if you would like to make a booking with with one of our specialist doctors.
Book an appointment