Medicinal Cannabis and CBD for Mental Health.
Struggles involving mental health have become more common in New Zealand over the last decade, with 1 in 3 Kiwis experiencing mental distress in their daily lives. Suffering from conditions such as anxiety or depression can be debilitating for many, and treatment options in New Zealand have been limited. Since the advent and regulation of medicinal cannabis within New Zealand, many of our patients have been prescribed medicinal cannabis products as a natural adjunct treatment for their mental health conditions.
Medicinal cannabis products are becoming more accessible in New Zealand, and on a global scale, and research is continuously taking place to discover the wide range of benefits medicinal cannabis products may have.
Early research and our own real-world experience have shown that the use of CBD oil, in particular, appears to have a calming and anti-anxiety effect, providing quality of life benefits for a wide range of common mental health conditions.
We at Cannabis Clinic strive to empower all New Zealanders to achieve better health and wellness with medicinal cannabis.
Our team consists of friendly and experienced doctors, nurses, and administration staff to ensure you get the best care possible at the most affordable price.
Contact us
Medicinal Cannabis and CBD for Mental Health.
Our team is the leader in cannabis treatments within New Zealand, so rest assured that you'll be in good hands as we help you through every step of the process. We have consulted with over 10,000 Kiwis, helping alleviate the burden weighing them down in their daily life. Whether you suffer from ADHD, PTSD, anxiety or more, our experienced physicians may prescribe a treatment plan designed for your circumstances:
Anxiety
Generalised, panic attacks, phobias, social anxiety
Depression
PTSD
ADHD
Dementia
Eating Disorders
Addictions
Anxiety
Generalised, panic attacks, phobias, social anxiety
Depression
PTSD
ADHD
Dementia
Eating Disorders
Addictions
They can present themselves with numerous symptoms, from relatively harmless to debilitating. These include:
Rapid heartbeat
Rapid breathing
Insomnia
Obsession with certain ideas
Performing certain behaviours over and over again
Feelings of excessive worry
Panic or dread
If your condition is not listed above, we can still consult with you and help find the best medicinal cannabis or CBD products for your mental health.
Contact us
Medicinal Cannabis and CBD for Mental Health.
Medicinal cannabis treatments in New Zealand became available under a doctor's prescription in 2018. Alongside conventional treatment, many of our patients find great quality of life benefits from prescribed cannabis treatments.
Traditional pharmaceutical treatments can also be of great benefit, but they sometimes have significant negative side effects, rendering them unsuitable for some patients. In contrast, our clinical experience indicates that the adverse effects of medicinal cannabis are usually significantly less impactful.
Medicinal cannabis may alleviate anxiety symptoms and other conditions by interacting with the body's own endocannabinoid system. This system comprises a complex group of endocannabinoids, enzymes and receptors that affect mood, concentration, hunger, stress and pain. This interaction helps to promote feelings of calm, increases relaxation and decreases feelings of anxiety. CBD has also been shown to interact with the serotonin receptors within the brain, affecting how they respond to the already-present serotonin.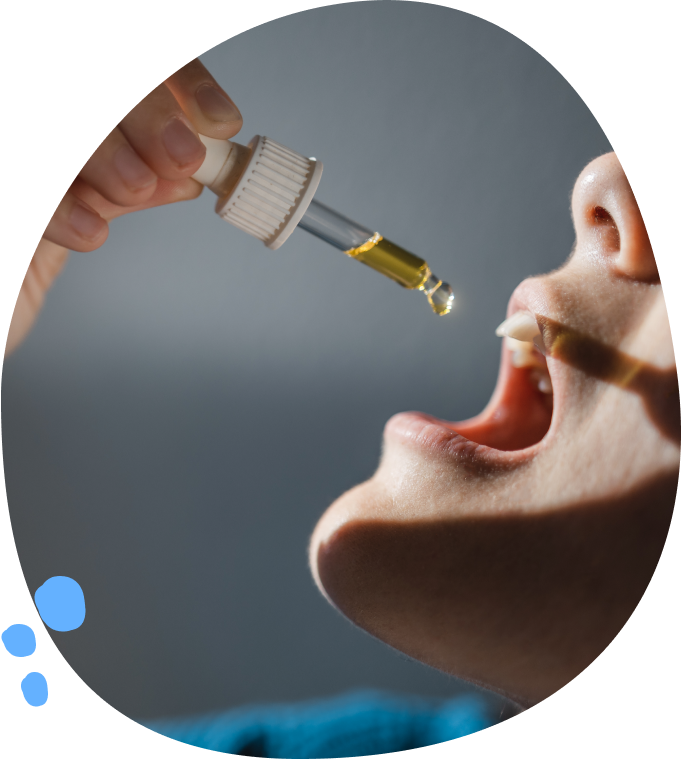 How Can Cannabis Clinic Help You?
Here at Cannabis Clinic, we will be there to help you along on your medicinal cannabis journey, helping you find the right balance and combination of CBD and THC to help manage your symptoms and improve the quality of your life.
We have seen great results with patients using medicinal cannabis and CBD oil for mental health and managing their symptoms. 
Contact us to find out more
Conclusion
Thousands of our patients have had good results with medicinal cannabis and CBD oil for mental health to help manage their symptoms. But the scientific research on using medicinal cannabis for various mental health conditions, including anxiety and PTSD, remains incomplete. This is mainly due to cannabis being illegal for such a long time.
The Cannabis Clinic looks forward to continuing the advancement of this natural plant-based medicinal treatment for New Zealanders. For those who feel that medicinal cannabis may be the right choice for you, please contact us to get more information about mental health and medicinal cannabis.
Questions about Medical Cannabis?
Look here.
Book an appointment with us!
Click below if you would like to make a booking with with one of our specialist doctors.
Book an appointment