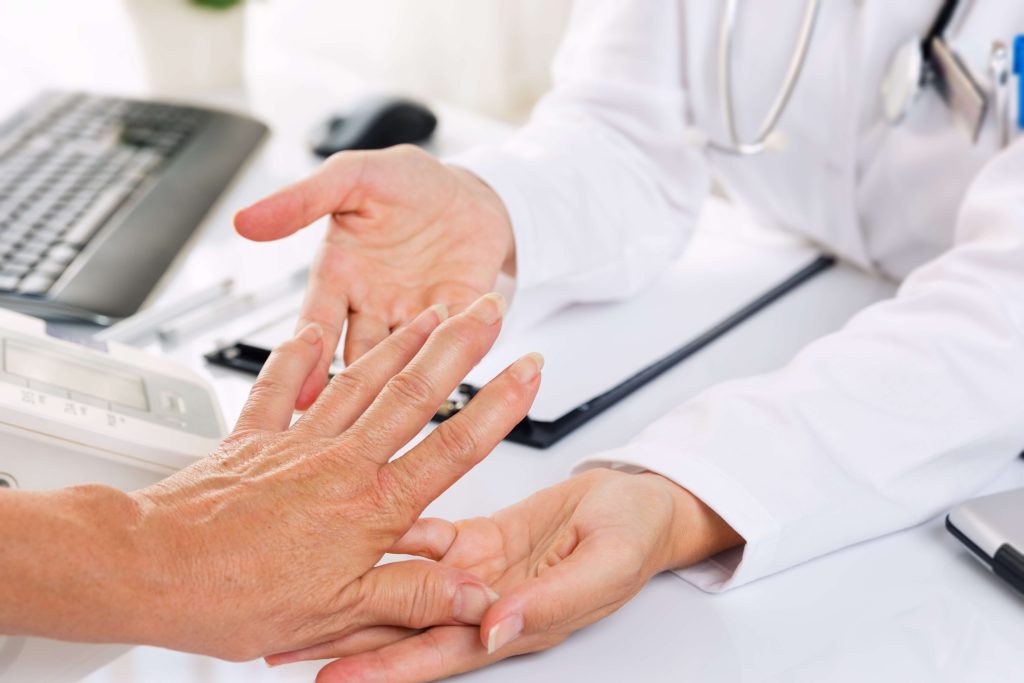 Listen to the automated AI version of this article here:
Healthy function in your joints is key to being able to perform everyday tasks. But for people with arthritis, even simple activities can be painful and difficult to undertake. The reduced range of motion can leave them struggling both mentally as well as physically.
The good news is that CBD oil may offer help for patients with arthritis and possibly help them to deal with their pain and reduced function.
CBD oil and arthritis
While you might think of CBD being a mild therapeutic, it may offer significant help for patients living with arthritis.
CBD use has risen in the last few years, not least because more and more people are discovering the impressive health benefits of this natural compound. Here's how CBD oil may possibly help you manage your arthritis.
Reduces inflammation
The main symptom of arthritis is inflammation. Inflammation can lead to redness, heat, pain, and reduced range of motion. For patients with arthritis, this inflammation occurs in the joints and is degenerative, meaning that it worsens with age.
Luckily, CBD oil has demonstrated a possible ability to reduce inflammation, which is great news for those living with arthritis.
CBD's possible anti-inflammatory effects have been shown in numerous studies where the cannabinoid has been able to reduce inflammation in inflammatory conditions including inflammatory bowel disease, skin inflammation, and neurodegenerative diseases.
CBD's possible anti-inflammatory effect is because of how it interacts with certain receptors in your body. Research tells us that CBD is able to activate receptors that suppress inflammation and is also able to stop the effects ofpro-inflammatory factors that contribute to inflammation occurring.
Reduces pain
Another symptom that is common among patients with arthritis is pain. As inflammation occurs in your joints and your nerves and muscles become pushed upon, pain is a regular occurrence. For patients with osteoarthritis, inflammation leads to the degradation of the cartilage around the joints, leaving bones to grind on bones when the joint moves, which can be especially painful.
CBD may also be able to possibly help arthritis patients with their pain management, thanks in part to its interaction with serotonin. Serotonin is a hormone that you may be familiar with due to its ability to induce feelings of happiness. But serotonin can also block feelings of pain.
We know that CBD can activate serotonin receptors and help increase serotonin activity. One study found that CBD activation of serotonin receptors was likely responsible for the possible pain relief experienced by study participants.
Improves sleep
Understandably, for patients with painful and movement-limiting arthritis symptoms, getting a good night's sleep can be difficult. But CBD may help you improve your sleep quality.
CBD has shown great potential as a possible sleep aid, improving sleep scores and improving the symptoms ofsleep disorders like REM sleep behaviour disorder and excessive daytime sleepiness.
Adding CBD oil to your routine could not only possibly help you ease the pain and inflammation that comes with arthritis, but it could possibly also leave you feeling more rested and finally getting a good night's sleep.
How does CBD oil help arthritis?
As detailed above, CBD oil may target inflammation and pain, some of the major symptoms of arthritis. CBD largely induces its effects on the body by targeting non-cannabinoid receptors. The results you experience from CBD depend on the receptors activated and the location of these receptors.
So, we know that CBD oil may target certain aspects of arthritis, but has it actually been tested on arthritis patients? The answer is yes, and with impressive, although inconclusive results.
CBD oil in arthritis research
Sativex is a prescription medication that contains equal amounts of CBD and THC. One study investigating the effects of Sativex on patients with rheumatoid arthritis found that after 5 weeks of treatment, patients saw a significant improvement to their stiffness and pain levels. While this study did involve another cannabinoid alongside CBD, it certainly highlights the potential of CBD to possibly help improve the symptoms of arthritis.
How to use CBD oil for arthritis treatment?
CBD oil can be used in a variety of different ways for arthritis, but the best way to consume it really comes down to an individual's wants and needs.
Whether it's simply placing CBD oil under your tongue, adding CBD oil to your morning smoothie, or vaping CBD oil, there's an option out there that will work for you.
Ways to consume CBD oil for arthritis will include:
Vaping
Edibles
Sublingual application
Nasal spray
Topical application
An important factor to consider when choosing your CBD consumption method is the strength of effect that is best for you. Vaping, for example, will give you instant and strong effects, while eating CBD will give you more long-lasting but milder effects.
The topical use of CBD oil with a balm, oil, or lotion can offer you direct application onto the site of issue, which is especially helpful for patients with arthritis, who experience localised pain and inflammation at their joints.
CBD side effects
When adding any new therapeutic into your routine, it's important to consider the possible side effects before starting use.
One major benefit of CBD is that it has a high safety profile, even at very high doses. Studies involving CBD treatment of arthritis have also demonstrated its safety, with only mild or moderate side effects being experienced.
Some of the mild side effects of CBD that you may experience include:
Diarrhoea
Dry mouth
Lethargy
Dizziness
One side effect that you don't have to worry about when taking CBD is a 'high'. While CBD is a cannabis compound, it can't get you high. THC, another cannabinoid is instead responsible for the psychoactive effects of cannabis. As long as your CBD oil contains no THC, you won't experience any psychoactive effects.
The bottom line
CBD oil offers a lot of potential for patients with arthritis, thanks to its ability to possibly reduce pain and inflammation as well as possibly helping to get a better night's sleep.
If you're interested in trying CBD oil for arthritis, take care to source it from a reputable supplier and be sure to ask your doctor if CBD is the best arthritis treatment for you.
To speak to one of our experienced doctors about using CBD oil for arthritis in NZ, please click here.
Disclaimer – medicinal cannabis and CBD oil are unapproved medicines in NZ which means that there is no conclusive evidence for their effect, apart from Sativex. Many doctors do not routinely prescribe cannabis medicines. The above article was written for general educational purposes and does not intend to suggest that medicinal cannabis can be used to treat any health condition. Please consult with your healthcare provider.