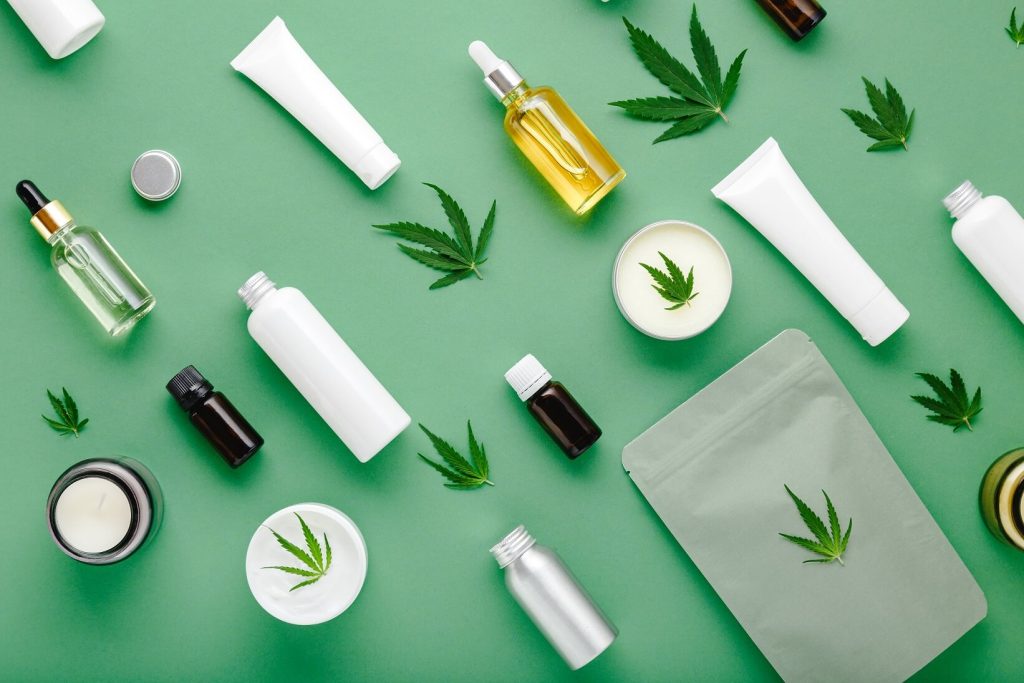 It is important that you are prescribed the correct medicinal cannabis product for your symptom(s) and you may find that up to date and helpful information about your options is limited online. In this article, we will discuss the correct use of medicinal cannabis products for specific health condition(s) and symptoms.
CBD prescribed in an oil form is the most common method by which CBD is used. The medicine is combined with a carrier oil, usually hemp seed oil or MCT oil, and placed in an oil dropper for use.
Why use CBD in an oil form?
Using CBD in an oil form has the advantage of keeping the product simple and natural. Compressing medicines into a pill or a lozenge involves the addition of a number of other ingredients on top of the medicine itself. Being a plant based medicine, keeping CBD oil pure from other non plant-based ingredients keeps it pure and natural. Another advantage of an oil based product is that it allows you to keep the dosage you are using controlled and accurate – you decide exactly how much you need to take and when.
Where is CBD oil in New Zealand sourced from?
Currently, all CBD oil that is sold by prescription in NZ is imported from overseas suppliers. There are several companies operating in this space and these products are only by prescription at you local pharmacy with a script from your GP. These products generally contain between 10mg / ml of CBD and 100mg/ mL of CBD, and prices start at $100 per bottle.
There are currently no NZ-made CBD oils available at present.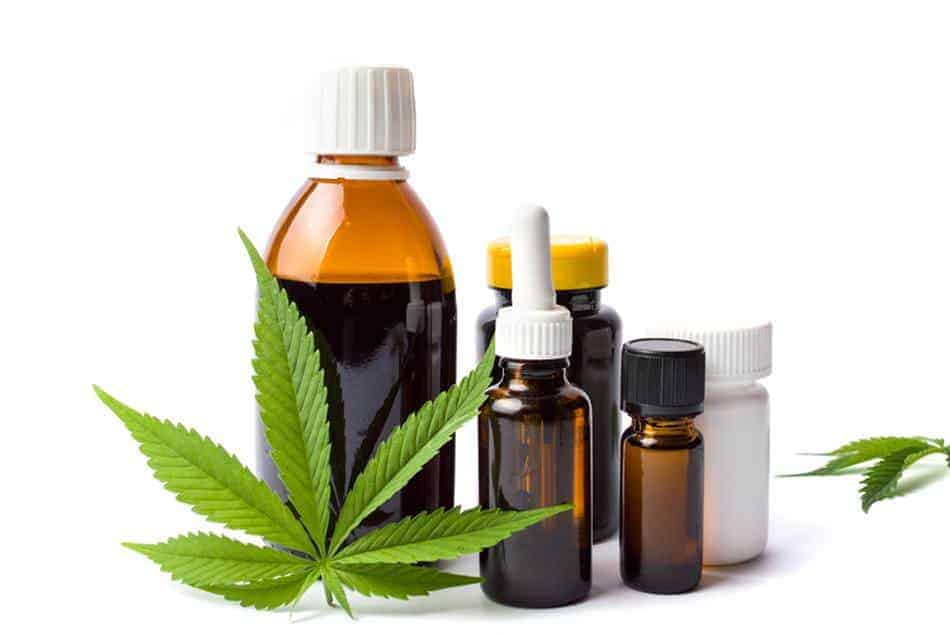 CBD oils products come in different strengths 
There are a number of differences between different types of CBD oil but the primary difference is the concentration or strength of the product. This relates to the quantity of CBD present in each bottle. 
The weakest concentration of CBD oil currently on prescription in NZ is 10mg / mL of CBD and the strongest is up to 150mg / mL of CBD. Some products are full spectrum and broad spectrum, whilst others are CBD isolates. Most come in 25mL to 30mL bottles.
Apart from their strength, the main difference between these CBD oil products is their price. The stronger or more concentrated the bottle is, the more expensive it is likely to be. On average, a bottle of CBD oil will cost $200 to $250.
What Types of CBD Products are Available in NZ?
There are a number of CBD products available in NZ that have been verified to meet our quality standards. The list changes overtime as more products are approved and it is recommended you speak to a doctor to understand which, if any, may be most suitable for you.
If you have been searching for CBD products online, you may find that overseas the range of products is significantly wider and greater than that available in NZ. For example, you may have seen CBD gummies, capsules, balms, vapes and even CBD flower. Although these products are not available in NZ, if your doctor believes they are the appropriate medicine for you, they may be able to import it on your behalf.
It is however worth noting that overseas products are likely to be of a lower quality standard than those available in NZ. Products approved in NZ must meet strict quality control requirements and are therefore of high quality whereas some overseas based products are produced with little quality control surveillance and therefore may not meet our standards.
Speaking to your doctor or a cannabis clinic is the best approach to discuss which, if any, CBD products may be suitable for you.
Rest assured, all CBD products are non-psychoactive so you will not get you high.
Can You Buy CBD Oil
Made in NZ

?
No, all CBD products currently available in NZ are imported and local products are on the horizon, expected to be available in NZ by late 2022 or early 2023.
Kiwi owned companies that are working hard towards locally grown cannabis include: Cannasouth, Puro, Rua Bioscience, and Helius Therapeutics.
NZ has set strict quality standards for medicinal cannabis products to be approved and although the medicinal cannabis scheme was launched in April 2020, it has taken suppliers some time to establish their facility and undergo the product registration process.
THC

Oils 

Alongside a range of CBD oil products that can be prescribed in NZ, your doctor may also prescribe a range of THC oil products. 

THC oil may be prescribed in situations where CBD oil alone has not provided you with any benefit or in situations where pain is severe or your sleep is impacted. In either of these situations, it is appropriate for your doctor to consider a THC containing product. 

THC products differ in the amount of CBD and THC contained in each. Your doctor will determine what is most suitable in your specific situation. 

Being prescribed THC oil does not mean you will experience an altered sense of reality, also known as feeling "high", as the oral doses prescribed start low and aim to achieve a benefit as opposed to a side effect.  

You can read more about THC oils here. 
CBD Gummies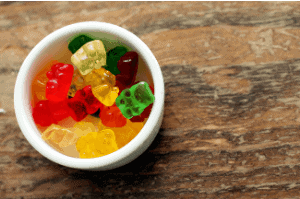 Although not available in NZ, CBD gummies are a popular means by which people worldwide consume CBD. NZ legislation does not permit the current and future ability to manufacture CBD gummy products but this may be imported by your doctor if it is prescribed specifically for you.
There are several reasons why a CBD gummy product may be suitable in your specific treatment plan, including: taste, convenience and cost.
Taste
CBD gummies are just nicer than CBD oil! The taste of CBD oil can vary depending on the carrier oil used, which is usually either hemp seed oil or MCT coconut oil. Using products with MCT coconut oil provides a milder taste.
Children
Parents find that it is a lot easier to get their child consume CBD gummies instead of CBD oil which has a unique taste, especially if it is based in hemp seed oil.
Convenience
it is much easier to have a CBD gummy at work or in the car when you are busy and travelling. Using oil requires you to carefully measure the dose and there is always the risk of spills.
Cost
CBD gummies are usually a cheaper option of getting the same dose of CBD.
A CBD edible in the form of a gummy has been helpful when using it as a treatment for children as the taste of the oil, especially in MCT oil, is not highly palatable. Furthermore, for those needing the convenience on the go or those with difficulty in measuring an oil in a dropper, an edible could be an appropriate prescription.
Hemp gummies
Hemp gummies are likely to only contain hemp (seed) oil and do not contain any CBD, as opposed to CBD gummies. Hemp oil contains healthy fat and is therefore a healthy addition to a balanced diet.
Topical products are applied to the skin directly and usually on areas where relief is required. A small amount of the topical product may be absorbed into the bloodstream but this is usually a minor quantity.
CBD Creams & Rollers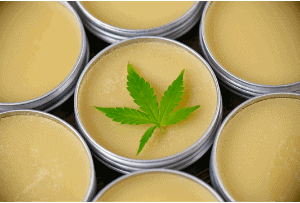 Although not available in NZ, CBD creams may be helpful when local relief is needed, such as over a joint, muscle or an area of skin. People mostly use CBD creams in combination with an oral cannabis-based medicine to supplement it and attempt to enhance it's effect.
Currently NZ legislation does not allow for the production of cream based products but this may be prescribed and imported by your doctor if it is appropriate.
The best method of using CBD cream is to apply it directly to the painful area, do it multiple times during the day, and actively massage it in when doing so.
There is no maximum amount when using CBD cream because it acts only where you are placing it on your body and does not get into your blood stream.
You can also consider using CBD rollers, which are very similar to CBD cream but without the mess, thereby keeping your hands clean. Both cream and rollers contain CBD and can be very helpful.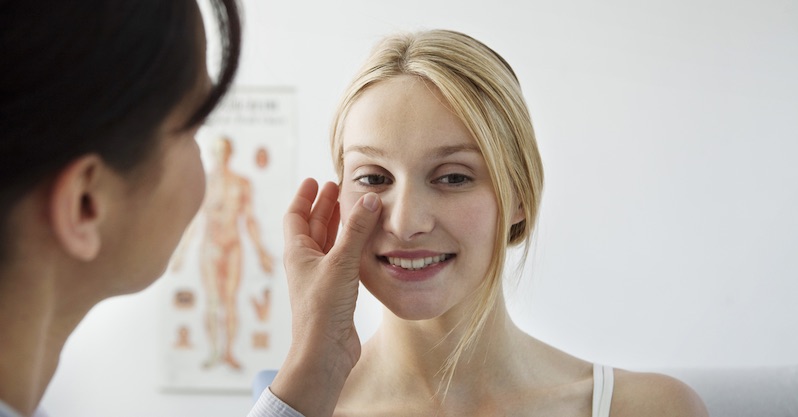 If you have inflammatory skin conditions, such as psoriasis or eczema, I encourage you to try the cream on a small area of skin first to ensure it does not irritate it further.
Another option to consider here is to use CBD oil droppers to apply a few drops of CBD oil directly on your skin and rub it in.
Inhalation & Cannabis Flower

Products
Your doctor may prescribe you legal medicinal cannabis flower in NZ if it is appropriate for you. Just as with other medications, this can be dispensed at a pharmacy after prescribing. Flower products contain the dried female flower buds and are packaged into containers ranging in size from 10g to over 30g.
Different options for cannabis flower products
Cannabis flower products are different from each other based on the amount of THC they contain and the specific strain upon which the product is harvested from.
Low CBD and High CBD flower
These flower products are best for those who require a high amount of CBD and a low amount of THC and therefore are unlikely to cause a high but rather have more subtle effects. Such products may be suitable in people who do not already self medicate with cannabis (cannabis naive) or those wishing to use products during the day and wish to avoid the risk of impairment.
Mid THC flower
Flower products with a moderate concentration of THC (usually 10-15%) may also be prescribed by your doctor and are generally best reserved for those who have some experience with cannabis or who experience sudden acute and severe symptoms that requires immediate relief.
High THC flower
High THC flower products (usually >20% THC) are very potent and may be prescribed by your doctor but are generally reserved for specific groups of patients who require high dosages of THC with symptoms that are severe and do not respond to lower doses.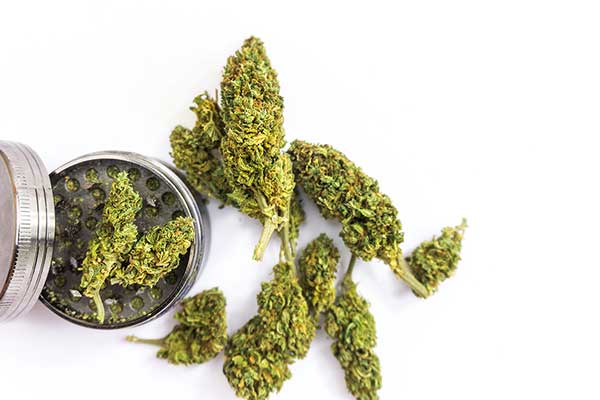 Cannabis flower products are prescribed to be used through a medial vaporiser device
How to use flower based products
Medical grade vaporiser devices
When we prescribe flower products for inhalation, we recommend they are used with a medicinal vaporiser device. These devices allow you to control the specific temperature that is used to heat the cannabis flower which ensures you achieve a consistent effect from consuming.
Controlling the temperature of the device is important for several reasons. Firstly, setting it to a lower temperature allows the process to be healthier, cleaner and with less by-products for your lungs. This is in comparison to smoking the product which exposes parts of the cannabis to extremely high temperatures, creating an inconsistent experience with more harmful substances.
Close control of the temperature also allows you to control the effect of the cannabis flower as the same product may have different effects on your body based on the temperature the plant is exposed to.
Tea based
Some products in NZ have been approved for use as a tea. This can be helpful when we require the full spectrum cannabinoid effect of the plant without the psychoactive effect.
You can read more about cannabis flower products here.
Although currently unavailable in NZ, medicinal cannabis can be consumed through a vape pen. These products generally hold a certain amount of an oil based extract that is vaped through a medical device. The convenience of this is that it allows you to consume an inhaled cannabis product discretely and without the need to carry a larger vaporiser device with you.
It is our expectation that these products may be approved to use in NZ by 2024.
Why inhale cannabis as opposed to oral consumption
Medicinal cannabis that is inhaled has a much faster onset of action in your body than if consumed orally. Your lungs are surrounded by blood capillaries and an inhaled cannabis product will enter the blood stream rapidly compared to ingestion, which involves the stomach and liver breaking the product down before it has effect in your blood stream.
See the graph below which illustrates this difference: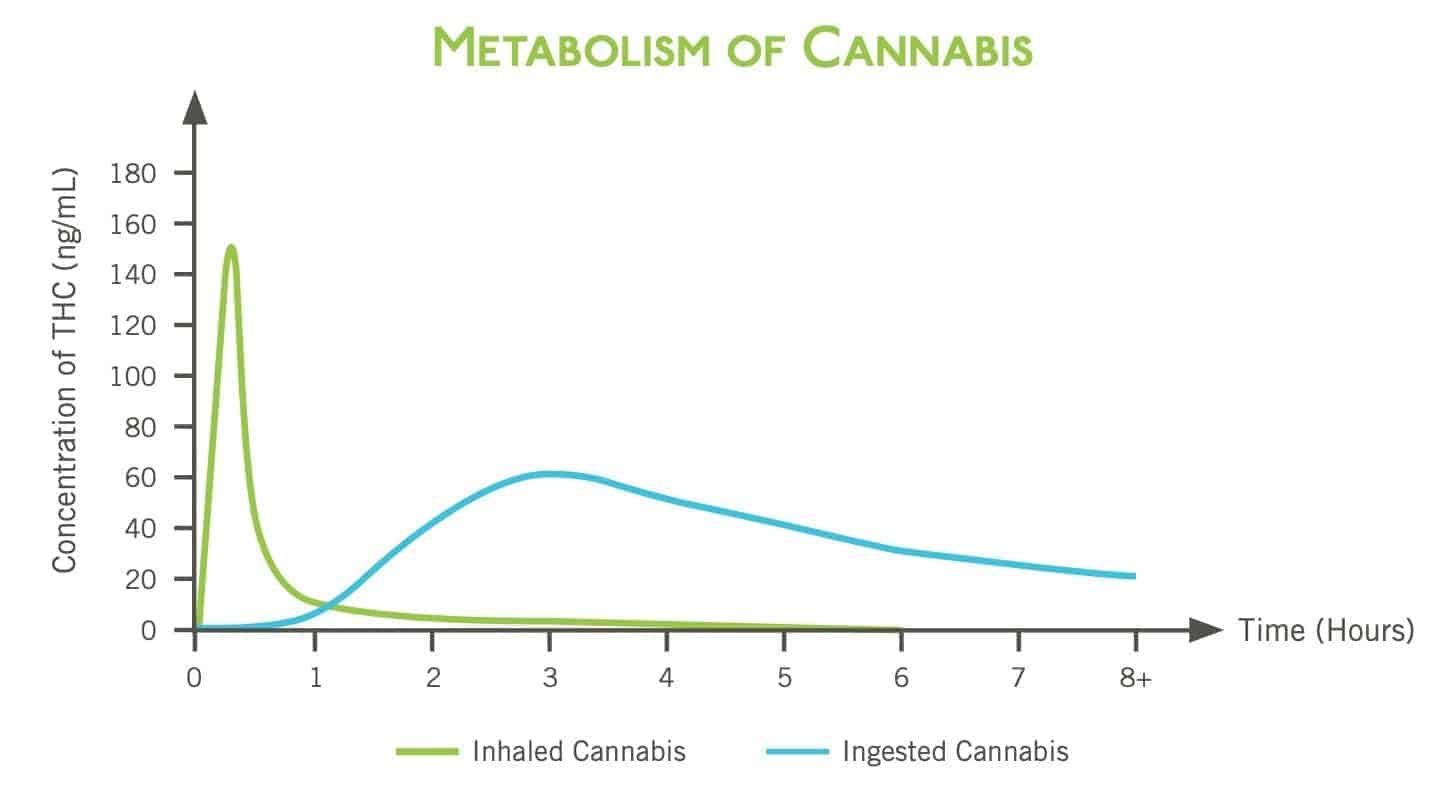 CBD oil and cannabis oil taken orally takes time to work and lasts longer whereas inhaled cannabis works immediately but for a short period of time. Combining the two methods gives you the best of both worlds. Image courtesy of Aphria.
Hemp

Based Products
Are hemp products the same as medicinal cannabis products?
Hemp products are not the same as medicinal cannabis products as they do not contain either of the two primary cannabinoids in cannabis – CBD and THC.
Hemp products are generally based on hemp seed oil which is rich in omega 3 and other healthy fats to supplement your diet and improve the cholesterol ratio in your body.
If you require medicinal products for your health condition(s), you need to consult with a doctor about the use of medicinal cannabis whereas if you require a health supplement to your improve your cholesterol, you can consider a hemp based product.
Buying

Medicinal Cannabis Products
Where can I buy medicinal cannabis products in NZ?
As a prescription-only medication in NZ, you can buy CBD products from your local pharmacy (with a script from your GP). Although legal in NZ, the range of medicines that have been approved to meet the quality requirements of MedSafe are currently limited but growing. 
We encourage you to consult with a professional doctor trained in medicinal cannabis to ensure you are prescribed the correct product at the appropriate dose. If you commence on CBD oil and do not notice an effect, it is important to either change the product you are using or consider using a THC product as well. 
If you would like to speak to one of our experienced doctors please book a consultation today.
The
Right Product

For You
What is the best product for me?
Speaking to an experienced cannabis doctor is the best step to obtain expert advice regarding your specific health needs. They will be up to date regarding the availability of the range of cannabis based medicines in NZ and your specific health condition(s) to give you the best advice.
However, generally speaking, when considering the most appropriate medicinal cannabis product for you, it is important to consider the following variables:
Full spectrum vs isolate – understanding the difference is important. A full spectrum product is a full plant extract meaning it contains a low concentration of THC. A broad spectrum product means it has other cannabis compounds, but zero THC. Some products are CBD isolates (also known as pure CBD). These are purified THC extracts with no other cannabinoids. 
Cost effective and has sufficient CBD to last you a good trial period.
Reasonably priced – find appropriately priced pharmacies or dispensaries. 
Legal and not sold online without a prescription – it is important you use legal and quality verified products for your health condition(s).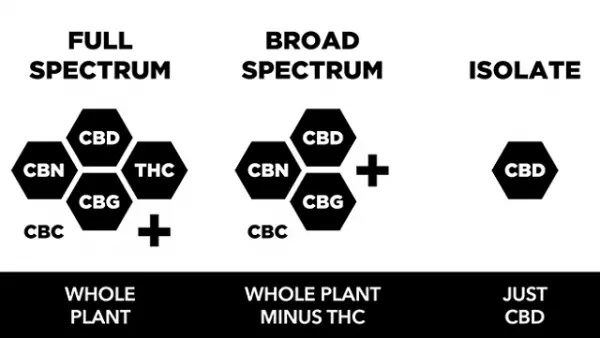 Cost

of Medicinal Cannabis
How much does medicinal cannabis cost in NZ?
The cost of medicinal cannabis varies from person to person but is generally $5 – $10 per day.
The cost can vary depending on the specific product(s) prescribed and the dosage that you require. It's best to speak to a cannabis doctor about your specific health requirements. Part of the consultation and follow up process involves titrating the dose you require over a period of time. This not only helps improve the outcome for you but also ensures that your treatment plan remains affordable and sustainable for you over the long term.
When comparing the costs between products, it is important to remember that the cost is not calculated based on how many mLs the product is, but rather the specific amount of active ingredient in mg.
For more information about the pricing of products and how ensure your treatment is affordable, make sure you read this article.
Conclusion
Medicinal cannabis products available in NZ are varied and comes in a range from flower based products, to oils, creams and gummies. Buying medicinal cannabis in New Zealand is limited to pharmacies only as it is a prescription medicine and being prescribed the most suitable product for your specific health needs is important.
If you would like to discuss medicinal cannabis for your health needs, consider speaking to one of our cannabis trained doctors today. 
We are here to help so if you have any questions or experiences you would like to share, please comment below. 
Disclaimer – medicinal cannabis and CBD oil are unapproved medicines in NZ which means that there is no conclusive evidence for their effect, apart from Sativex. Many doctors do not routinely prescribe cannabis medicines. The above article was written for general educational purposes and does not intend to suggest that medicinal cannabis can be used to treat any health condition. Please consult with your healthcare provider.