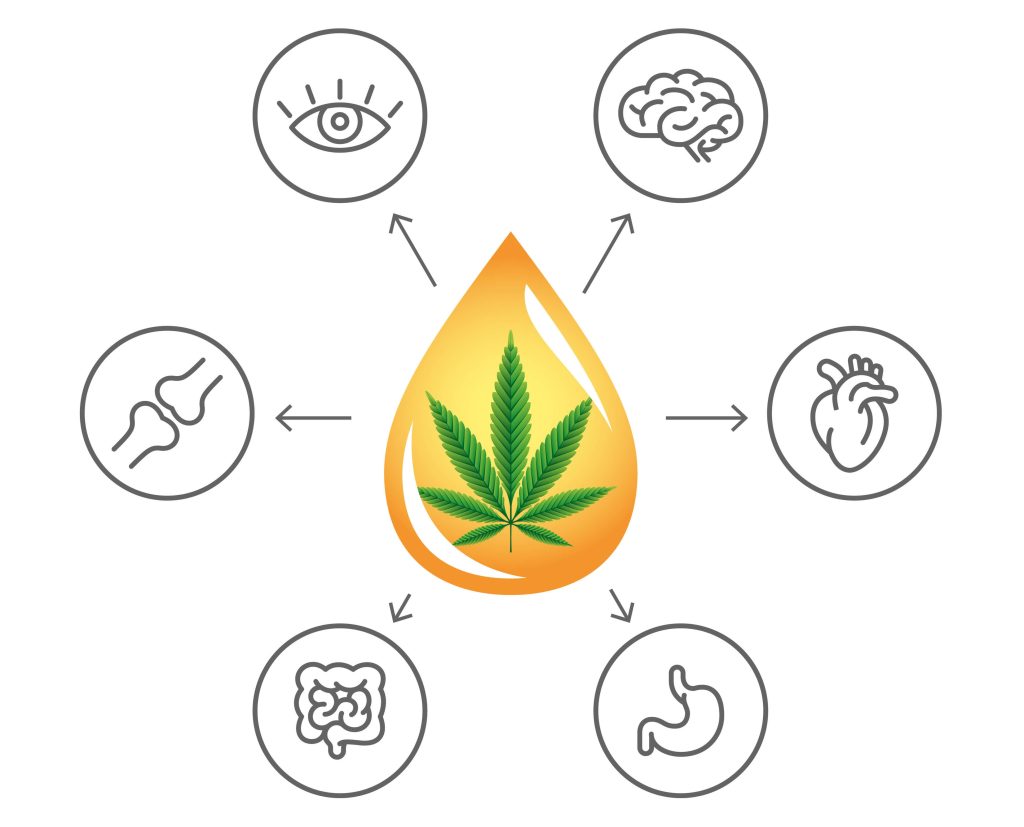 Listen to the automated AI version of this article here:
The information in this blog is related to full-spectrum and broad-spectrum CBD and may not be applicable to CBD isolate products.
Medicinal cannabis is one of the more popular natural alternatives to western pharmaceutical medicine. It has a wide range of potential benefits and symptom-relieving effects, but what about day-to-day wellness? Research into CBD is still developing but the facts are becoming clearer – taking CBD oil daily may have a wide range of benefits.
While you may be thinking about taking CBD for just one reason (pain, sleep or anxiety, to name a few), when you start to take CBD daily, you may get many more benefits than just what you came for. Think increased fibre and vitamins, improved brain function and even healthy skin!
We've gathered some info on taking CBD daily and the potential benefits for your general wellbeing so you can confidently weigh up your decision to begin your CBD journey.
How Does CBD Work?
CBD is short for cannabidiol, a natural chemical found in the cannabis plant (and not the chemical that gets you 'high' either). CBD is fat-soluble (lipophilic), the same as vitamins A, D, E, and K which means it breaks down in fats and oils so is easily absorbed by the human body and can be stored for long periods of time. This means that CBD builds up in the body over time so the longer you take it, the more potential health benefits you may get!
CBD gets to work on the body's endocannabinoid system (ECS) which helps with basic bodily functions such as sleep, pain, appetite, and immune system response – functions we use every day. In fact, CBD may help to regulate and maintain these functions, which could improve your overall health and wellbeing.
Can I Take CBD Daily?
The answer to this is easy – not only can you, but we think you should! As the potential benefits build up in your body over time, it's recommended that you should take your chosen CBD product daily (or to the dose that your doctor prescribes you).
If you're just starting out on your medicinal cannabis journey, you might be feeling cautious about taking CBD every day. Rest assured, our team of doctors will work with you to find the perfect product and dose for you so that you can maximise the effects of the possible benefits from taking CBD every day. 
When you're starting out, it can be comforting to know that as a rule of thumb, CBD can be completely out of your system in around a week too. While this is different for everyone depending on your body type, metabolism and how long you've been taking CBD, it does dissolve in the body over time. If you do find you want to stop taking CBD, we recommend first coming back for a follow up consult with your doctor as they will be able to change your dosage, product or chat through any concerns you may have.
Now on to the daily benefits…
CBD Oil May Keep Your Brain Healthy
A 2017 study found that CBD may help maintain and improve the health of your brain. It was found that CBD could help your brain cells work more efficiently  by improving mitochondria (energy generators) function within cells, and may help to get rid of damaged cells so that they can be replaced. CBD also may protect the brain due to its anti-inflammatory properties and could act as an antioxidant to keep brain glutamate levels healthy to regulate brain functioning. Win, win!
CBD May Protect and Repair Your Skin
We've already mentioned that CBD may have antioxidant properties, but did you know, this can be very beneficial for your skin too? The antioxidants in CBD oil may help to protect and repair skin damage caused by UV rays and other damage and has anecdotally been successfully used for the treatment of acne. If it does that, it may then also help to prevent and reduce the occurrence of skin cancers!
CBD has many potential benefits when used on a daily basis. The bodily regulation, maintenance, and potential health wins are hard to ignore. If you'd like to learn more about how CBD may be able to help you, get in touch or book your initial consultation with us today. We can't wait to help you feel your best!
Start your journey to a better health and a better life.
Book a consultation with one of our fantastic doctors today
Disclaimer – medicinal cannabis and CBD oil are unapproved medicines in NZ which means that there is no conclusive evidence for their effect, apart from Sativex. Many doctors do not routinely prescribe cannabis medicines. The above article was written for general educational purposes and does not intend to suggest that medicinal cannabis can be used to treat any health condition. Please consult with your healthcare provider.